Photo by: Jay Scott Photography: Classic: British Wildlife Centre
It is wrong to believe that hens attract more predators. There have always been predators. Leave a pot of food out to cool and you risk attracting a nice family of raccoons.
Although we don't see them as often as we do in rural areas and the risks are minimal in the city, predators are very present. They are also a sign of a healthy ecosystem, so don't eliminate them. Raccoons, foxes, weasels, possums, mink, small snakes, skunks, Scavenger rats, weasels, wild cats are a few examples to be wary of.
Spring and the end of August to October are more risky periods. It is in spring that you must be wary of the fox that has to feed its young. He is patient and will observe your installation, so be sure to protect your hens at night. The raccoons are very intelligent and will know how to open a simple door latch. So, check the perimeter regularly. Having a good guard dog can discourage wildlife from approaching the hen house. There are no more predators with chickens. Also, because the hens are secured at night, they quickly realize that there is nothing to see. During the day it is very rare to see these predators hunting especially at night. With an automated door, you eliminate 100% of any risk. The No. 1 cause of the attacks of our chickens, are the negligence of humans who do not respect the security to be put in place.
Here are the 3 lines of defenses to put in place:
The first line is the fence of your yard. A fence of at least 5 feet and well protected on the ground is an important asset to discourage predators from entering your yard.
The second line of defense is the aviary of your poultry house. If you do not have a fence, your hens should always be in the aviary with a covered roof at all times.
The third and most important line of defense is the small entrance door of the chicken house (hop hole) at the end of the ramp. This door must absolutely be closed as soon as darkness appears and your hens have entered. The automated door becomes very useful here.
In addition to its lines of defense, here are a few tips:
– Don't let your hens perch in the aviary at night, they must learn how to enter the hen house every night. Avoid placing perches in the aviary.
– Openings such as windows should also be protected with solid pins with ¼ squares and 16 gage solidity. Never use chicken wire. It is not strong enough.
– Bury wire mesh in the ground around the perimeter of the chicken house and lay tiles or paving stone all around to prevent predators from digging underneath.
– Always have an aviary covered with a roof.
– Close the door of the henhouse as soon as it gets dark.
– Use secure barbed latches that raccoons cannot open. Avoid hooks in the grommet.
Certain materials and tools can help scare off predators: an electric fence, a radio, a fake owl, predator urine, human hair, decorative animals, etc.
Better protection = Secure the chicken house as much as possible with no more than one square inch of free space and seal the entrance to the chicken house at the dormitory.
The insulated automatic door opener
The automatic door is the best investment you can make to secure your poultry house, but also to have peace of mind!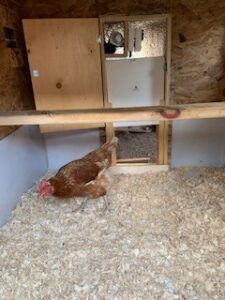 You can go out for dinner, take the kids to school, etc… without any worries… the door will simply close at the time you decide with a timer (don't forget that the hens come in to roost themselves at dusk!).
The type of pins is important. Do not use chicken wire. Use stronger, tighter pins. 16 gauge (gage) minimum.
Pin sizes for better protection.
– 6mm x 6mm opening: The best option to protect from rodents.
– 13mm x 13mm opening + 13mm x 25mm opening: Often used to protect from birds.
– 20mm x 20mm opening: Ideal to protect from rats and squirrels.
– 25mm x 25mm opening + 50mm x 50mm opening: This medium type of fence is ideal to protect from foxes.
Welded mesh
A welded spindle will be thicker and stronger than chicken wire. Few predators will be able to get through. It is available in variable thicknesses from 2.5 mm to 3.5 mm. This brooch is also available in variable heights and in galvanized steel or covered with green or black plastic. This pin makes it easier to secure the poultry house and aviary. It is not as soft and flexible, but much stronger.