Diatomaceous earth is a natural product. Often sold in garden centers to control ants! It is a geological repository of fossilized skeletons of marine organisms (family of algae/single-celled plants). When crushed, it looks like talcum powder, it is harmless to people and animals if used properly.  This product creates dust that can be harmful to the respiratory system. Do not place too much of this product in dust baths for chickens. Mix one or two cups no more, in a large sand, earth and ash pan. Chickens stirring the mixture should not breathe DTA dust.  Some experts with urban hens have completely banned its use with hens, because too many people misuse DTA.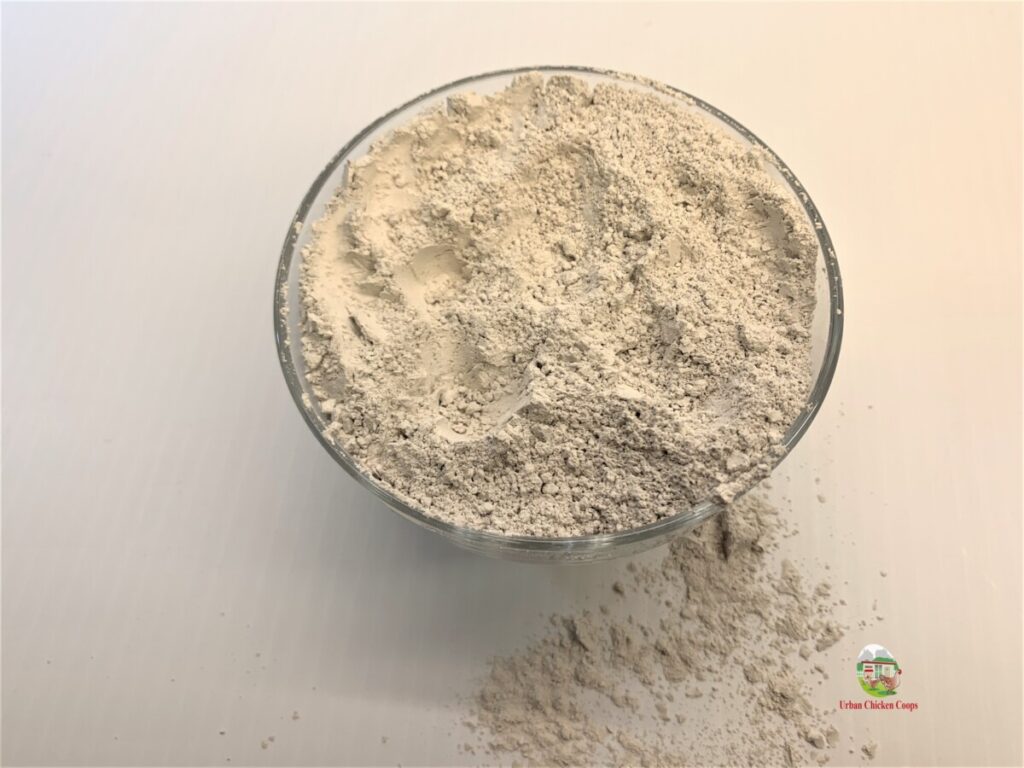 For centuries, grain has been protected from insect ravages in underdeveloped countries by adding natural products. The most commonly used products are plant ash, lime, dolomite, or diatomaceous earth.
With the introduction of chemical pesticides in the 1940s, another solution believed to have been found against insect pests. These products brought enormous benefits, but today we see the problems associated with them, including insect resistance formation, environmental pollution, contamination of edible foods and health risks in handling. This has prompted several researchers to examine, once again, different powders as sources of protection and how these can be improved.
It can be used as a preventive measure against insects, moths and mites, because the powder is composed of small crushed glass crystals that are ingested by the insect or adhere to its body, thus promoting the loss of liquid which results in dehydration and death of the insect.  It is useful in prevention, but if your hens are infested, a treatment will be more effective with an insecticide that stops the parasites, larvae and eggs.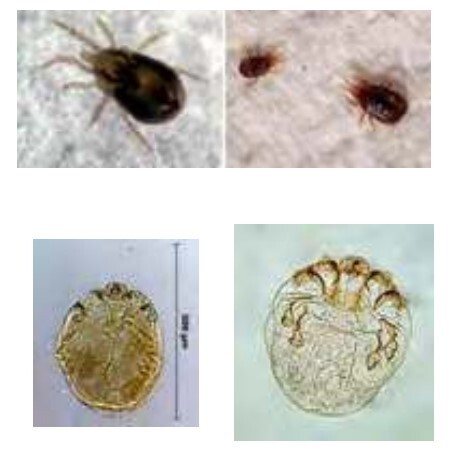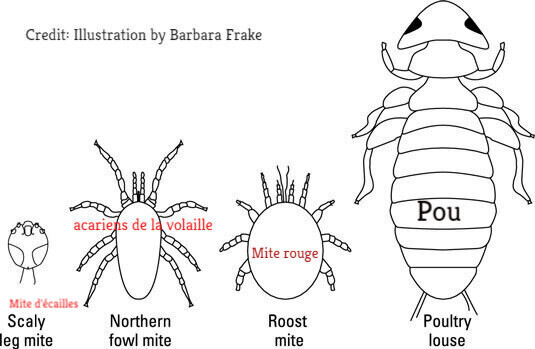 ADD can be used as a first treatment, but if the parasites come back, always have on hand a product containing an insecticide against parasites prescribed by your veterinarian if your hens are affected by lice or mites.  Otherwise, they will keep coming back.
Diatomaceous earth powder is an interesting ingredient to have on hand, because here are all the uses and advantages:
Sprinkle from time to time on the feathers of chickens; beware of the respiratory system of chickens!
Added in small quantities (5% of the ration) in the feed, it adds minerals.  Although composed of nearly 85% of mineral silica (SiO2), about fifteen trace elements and minerals are naturally present in the composition of Diatomaceous Earth, including: boron, manganese, titanium, copper, sodium zirconium, magnesium and calcium …
When ADD is wet, it does not work against intestinal worms.
Among the other benefits of its use, TD can be sprinkled on animals, their bedding and niche to prevent external parasites. In the future, improvements in formulation should undoubtedly increase its use, while countering its disadvantages. Currently, it is probably the safest and most effective insecticide in the home. "Its use guarantees a better quality of life for its users and promotes the maintenance of a stable environment, relative to its pro-ecological properties.
Diatomaceous earth has the disadvantage of not being selective, i.e. it causes the death of all species of insects, whether beneficial or harmful. It must then be used with 
The most effective natural powder is probably diatomaceous earth. This is a geological repository of fossilized skeletons of marine organisms (family of algae/unicellular plants). When crushed it has the appearance of talcum powder, but its texture, although harmless to humans and animals, has the effect of small crushed glass crystals on the insect; these are either ingested by the insect or are collected by its hairs (bristles), and adhere to its body to scrape through its tiny layers of protective wax, thus promoting a loss of liquid that results in dehydration and death of the insect. In addition, the absorbent properties of diatomaceous earth promote this process.
Today, during its formulation, a bait is incorporated into the diatomaceous earth, which attracts the insect and encourages it to pass through. Without it, it has a repulsive property and was once added in large quantities to the grain to protect it from pests. But these large quantities (3 1/2 kg/tonne) tended to make the grain heavier and very dusty.
At home, TD can be used to prevent the entry of certain insects, such as ants, cockroaches, earwigs and silverfish, as well as to control these and other insects in cabinets, carpets, basements, attics, window sills, etc. In all these examples, it is important to place a small amount of powder in corners, cracks, crevices and other areas where insects may be found.
While with a chemical pesticide the insect dies suddenly, insect control can take several days with diatomaceous earth. The most important difference, however, is that diatomaceous earth provides long-term protection of treated areas, unlike chemical pesticides.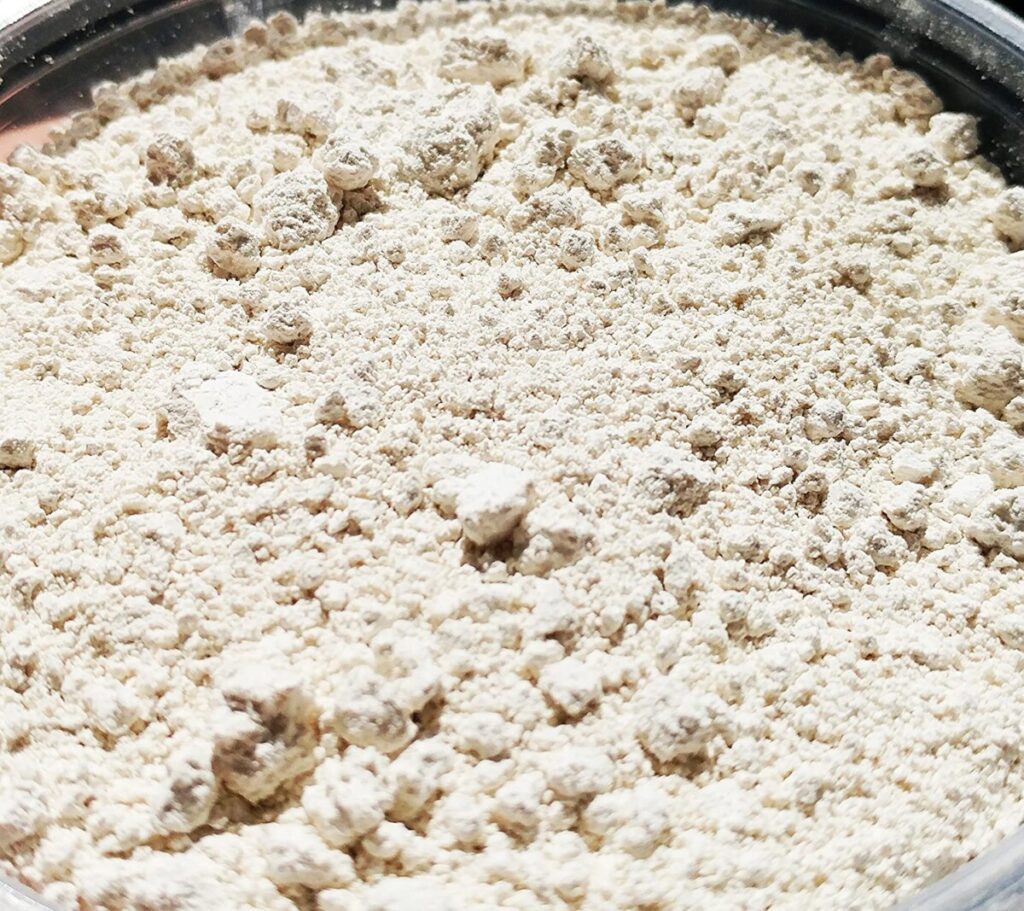 Diatomaceous earth is, then, an ideal pesticide: it is residual, but not toxic. The only precaution to take is to wear a mask when handling, because if large areas are to be treated, inhalation must be prevented. In fact, inhalation of the dust from our roads or the dust generated when handling storage grain is more damaging than that produced by the application of this insecticide.
Diatomaceous earth is effective against:
Ants, Aphids, Mites, Cockroaches, Moths, Earworm, Earwigs, Flies, Leafhoppers, Bedbugs, Carpet Beetles, Centipedes, Silverfish, Slugs, Mites, Lice, Red Lice, Snails, Red Spiders, Floor Fleas.
Fortify the animal's metabolism
Horses, cows, pigs, sheep, goats, rabbits, chickens as well as dogs and cats can enjoy the benefits of Diatomaceous Earth. 
Summary: The results of these and similar unpublished studies are consistent: 1) DE does not have an effect on parasites loads as measured by fecal egg counts; and 2) DE does not reduce anemia, as measured by packed cell volume and other blood parameters.
Despite the widespread interest in using diatomaceous earth (DE) as a natural anthelmintic, few studies have actually evaluated its efficacy. Thus, there is a need to do additional studies. The Sustainable Agriculture, Research & Education Program offers farmer-grants that can be used to evaluate alternative dewormers and other sustainable worm control strategies.
 In previous studies, DE has been evaluated as a substitute for a chemical dewormer. DE and other natural substances aren't likely to replace chemical dewormers, especiallly as the role of chemical dewormers changes from prophylactic to therapeutic.
source: https://www.sheepandgoat.com/de
Keep Diatomaceous Earth from moisture in a dry place out of reach of children.