By Louise Arbour of Poules en Ville and the collaboration of Ms. Nancy Vallée and CVL
I am often asked by chicken keepers if they need to consult a veterinarian and they don't know the indications that motivate them to make an appointment for a consultation. In any case, you must learn to carefully observe the appearance and behaviour of your chickens. Then, making a general observation of your chickens from head to toe will help you determine if you should consult a veterinarian.
Observe from a distance and inside your flock how your hens interact with each other. The behaviour of a flock can be assessed by the way they move as a group. A healthy hen should be lively, alert and have a good appetite and not exhibit abnormal behaviour.
Make notes in a notebook and note any increased breathing effort or tail swinging, or abnormal posture. If the head is tilted or the wings fall off, there is definitely something wrong with your hen. Immediate veterinary care should be given to any hen if you notice any of the following:
acute hemorrhage

head trauma

seizures or other neurological signs

an open fracture

extreme breathing difficulty

weakness, difficulty moving, walking.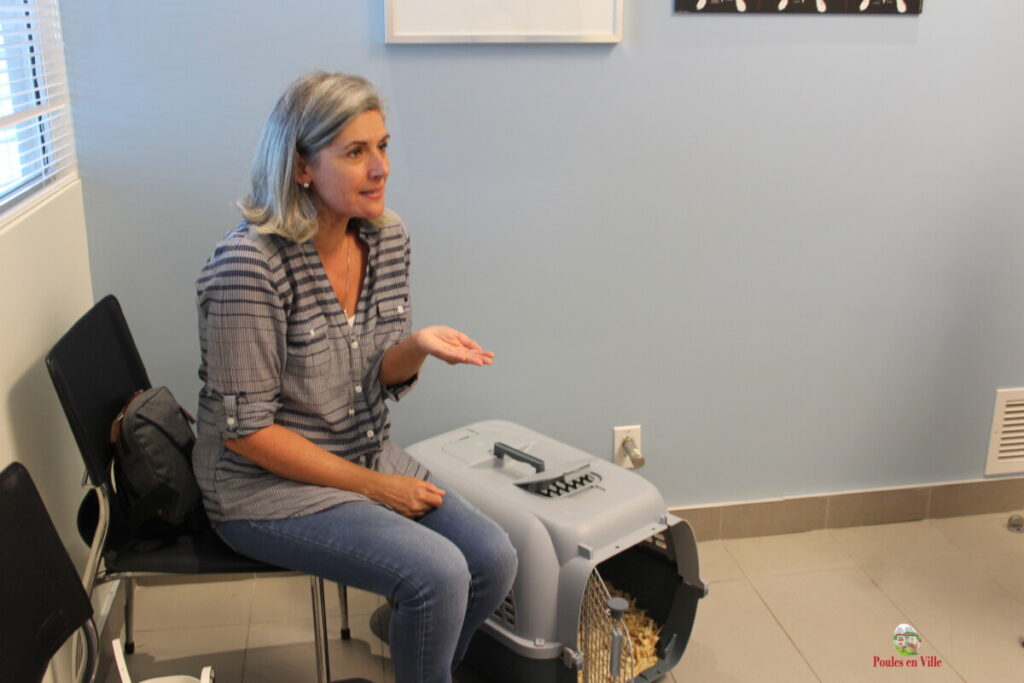 If you don't see any abnormal signs in your chickens and other domestic fowl, you can proceed with a simple routine examination.  You need to know how to take your chickens properly. Grasp the hen and insert the fingers between the legs while supporting the chest with the other hand. 
Restraining hens upside down is not ideal, as it can increase stress levels and cause regurgitation, as well as fractures if bones are fragile due to a lack of calcium. Immobilizing a hen by squeezing her chest is also not ideal, as chest compression compromises breathing. The hen should be kept as calm as possible to avoid injuring the hen and the handler. A full article on hen observation is available on the hens in town website: have you observed the health of your chickens this week? https://www.poulesenville.com/18-avez-vous-examine-letat-de-sante-de-vos-poules-cette-semaine/
If you decide to make an appointment, be aware that more and more clinics are offering telemedicine services. Consult the attached list of official veterinarians who offer the service to hens in Québec. In Other provinces, check with your local Vets. 
https://www.mapaq.gouv.qc.ca/SiteCollectionDocuments/Santeanimale/Reseauaviaire/Liste_veterinaires_soutien_basse-cour.pdf 
In addition, pilot projects for a mobile vaccination clinic for breeders of purebred hens are underway and I will tell you more about this in a little while. 
Have a transport cage to bring your hen with a bottom of wood shavings or newsprint and provide feed and water at all times. Small plastic containers are easier to insert and hang on the walls to provide feed and water.
To help your veterinarian, be prepared to answer a few basic questions.
How long have you had chickens / from the beginning of the project : _________________Numbers of hens at the beginning: _____________
Chicken species? Redheads of hatcheries, breeds? : ____________________________
 ge of the hens: _________________________ Have your chickens been vaccinated? : __________
Quality and quantity of egg-laying? : _________________________ are your chickens incubating? _________________
Do your chickens have access to a sandbox to wash their feathers: _____________ Have they already moulted: ___________________
What type of feed and brand of feed do you offer to your hens? _________
Taking the temperature through your hen's cloaca, and weighing it regularly will help you notice any important changes to communicate to her.
Tip: carry an empty coffee cane or an old dish with a plastic bag and lid and a small shovel of litter to remove droppings from the cage as you go along and not cause unpleasant odours in the environment, the waiting room and your car. Courtesy is a guarantee of a pleasant visit for everyone.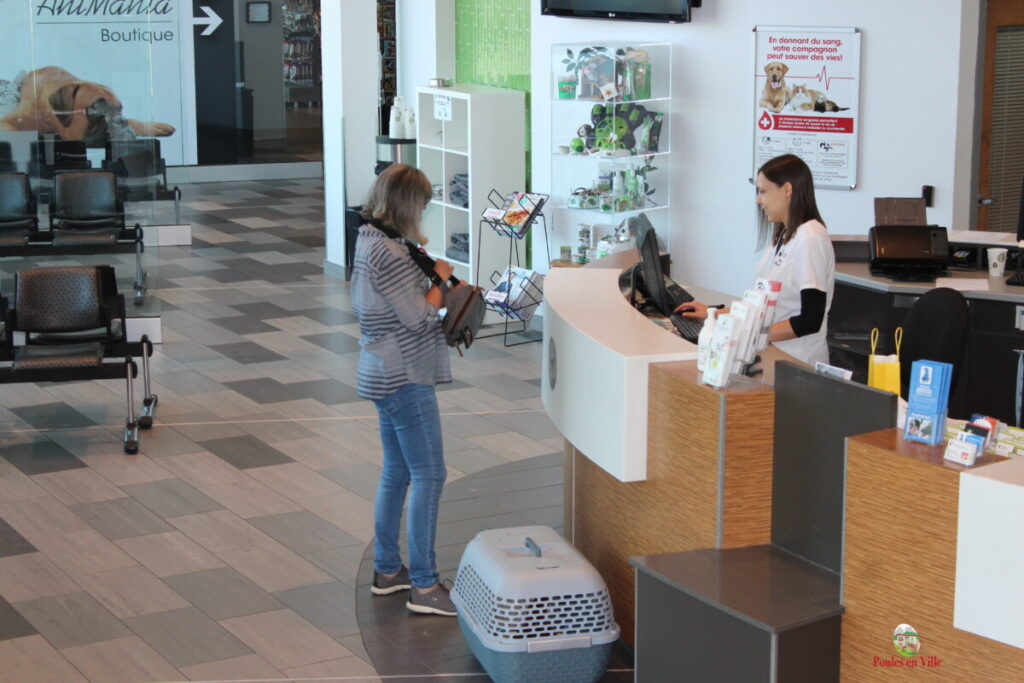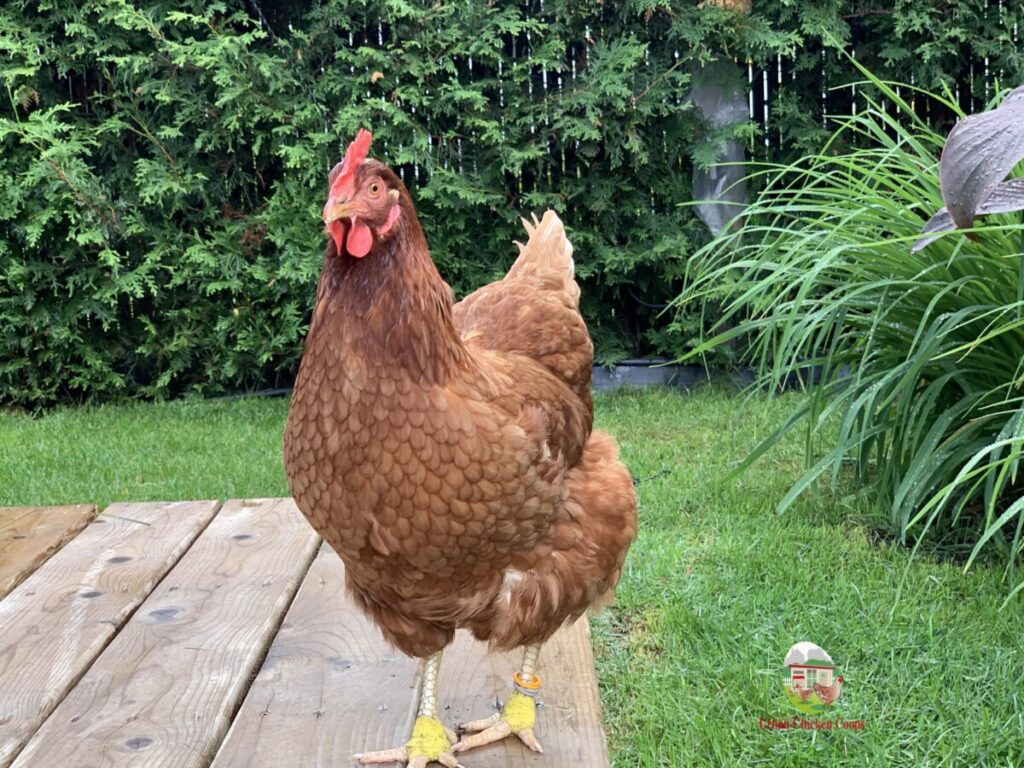 By developing a good relationship with your veterinarian, you can be assured of getting the best care and treatment for your chickens. 
Thanks to the Clinique Centre Vétérinaire Laval : https://cvlaval.com
If you are ever dissatisfied or have a complaint, the Order of Veterinarians is there to protect you. 
https://www.omvq.qc.ca/protection-public/204-l-ordre-est-la-pour-vous.html
https://www.canadianveterinarians.net/
https://www.canadianveterinarians.net/valid-vcpr
NATIONAL OFFICE
Canadian Veterinary Medical Association
339 Booth Street
Ottawa, ON  K1R 7K1
Canada
Tel: (613) 236-1162 | (800) 567-2862
Fax: (613) 236-9681
Email:admin@cvma-acmv.org
CHAPTER – BRITISH COLUMBIA
CVMA-SBCV Chapter
PO Box 21088
Maple Ridge Square RPO
Maple Ridge, BC V2X 1P7 
Canada
Tel: (604) 406-3713
Email: CVMA-SBCV@cvma-acmv.org